Your competitor is launching a new product or service. You are offering something similar – but, of course, much better.
Then all of a sudden your competitor's product is all over. Press articles, online reviews, best-of, buying guides, even TV segments.
How is it going? And your real question: why does it not happen you?
To compete with your competition, there is one thing you will need in your wheelhouse: a media kit.
Here, we'll explore what a media kit is and how it can help you increase your brand awareness and ultimately sales.
Plus, how to set one up for your own brand.
What is a media kit?
A media kit is also called a press kit. This is a set of promotional material intended to provide information to members of the news media to help them write articles.
Media kits can be fully online and responsive online press pages. Companies can also choose to make their press kits available as static and downloadable resources, such as a presentation.
Whichever format you choose, it's clear: Businesses of all sizes benefit from a professional and easily accessible media kit. This vital resource is a key to gained media coverage all businesses covet – from large Fortune 500 companies to individual influencers and solopreneurs.
A comprehensive media kit should include a description of the business or individual, contact details, social media stats, case studies, information about partnerships and collaborations, and testimonials from past clients.
Basically, this is all the information a reporter would need to showcase your brand in a late-breaking news story, without the headache of a late-breaking news request.
How to create a media kit: what to include
So you want press coverage and partnerships (which brand doesn't?). And you understand how a media kit makes it all happen. But how do you make a media kit?
Here's the good news: most of the content and creative resources you need to build your press kit probably already exist.
Key elements of a media kit include a bio or About Us page, social media stats, case studies, partnerships and collaborations, and testimonials. To make it even easier for the press to cover your work, you'll want to include high-quality brand identity images (think logos and other branding images or product / service images).
It's up to you to (1) find this information, (2) make it look spectacular, and (3) make it painfully easy to find on your site. The rumors you've heard about journalists and how overworked they are? Completly true.
To get someone's attention on a tight deadline with an internet full of story prospects, you're going to want to do it simple. Most brands choose a direct page name like "Press" or "Media" –– or, if they're really fancy, "Newsroom" –– and make it accessible directly from their homepage (often in the footer).
Even if you prioritize a web version, having a downloadable media kit or presentation is worth the time investment. Some media users may prefer the traditional form of this resource, which gives you the best opportunity to control your presentation and tailor content to all audiences.
Biography or about us
Let's start with the star of your media kit: you. This is where you enter your name, your logo, your mission. Make sure your media kit design reinforces your overall brand identity, using the colors, fonts, and other visual features defined in your branding guide.
Evernote goes all out in this section, hosting their press kit information in the larger "About Us" part of their website. All the essentials for journalists and partners are there too, but the values ​​of the organization are central.
Social statistics
For social statistics, you will need to perform a social media audit or collect this data from whoever manages your social channels. Don't forget your audience for the press kit: media and public relations professionals.
Your media kit should effectively present your brand to people who specialize in being able to grab people's attention. So show them that you can spark conversation – and show them that there is already an audience hungry for stories about you and your work.
Kickstarter puts a unique stamp on this section of their media kit page, highlighting a few key metrics that show massive engagement with their service.
Media kits for partnerships and collaborations should prioritize engagement rate and similar usable indicators next to bread and butter statistics like the number of subscribers. Savvy marketers want to partner with brands and influencers that push people into action.
[Note: If you are a HubSpot Social user, you can use Reports to analyze the performance of your social posts and determine how well your social media efforts are performing.]
Partnerships and case studies
This section is your chance to talk about past partnerships and brand collaborations. Leave the old saying "to show; do not say"Be your guide here. Proposing the right partnerships –– via logos or through short case studies –– is a subtle but powerful tool for positioning your brand.
International football influencers The F2 highlight past campaigns, highlighting reputable brand names and logos. They also note key engagement metrics for these campaigns

Testimonials
Testimonials are another great way to to show media professionals impact and effectiveness of your brand or product.
Keep this section short: one testimonial should suffice. Only a few lines of text (even a simple short quote) and a single associated image get the point across, lending your presentation greater credibility through social validation.
Briogeo does a fantastic job highlighting the testimonials on its Press & Buzz page, just below the rewards section for easy access:

Visual resources (downloadable)
Your media kit is not a style guide, but it should incorporate the most essential elements of your visual brand. Want your logo and this awesome product screenshot to display properly?
Provide exactly the images and files you want to present. Got a data visualization, infographic, or product video? Include that too.
Journalists will particularly appreciate the portraits of your management team. They are more likely to cover stories involving people, so show them the people they will want to write about.
Birchbox make it easy. They highlight "Press Material" and refer to a short but comprehensive set of resources. Having everything in neatly organized cloud folders is a good idea – especially for those who browse on mobile.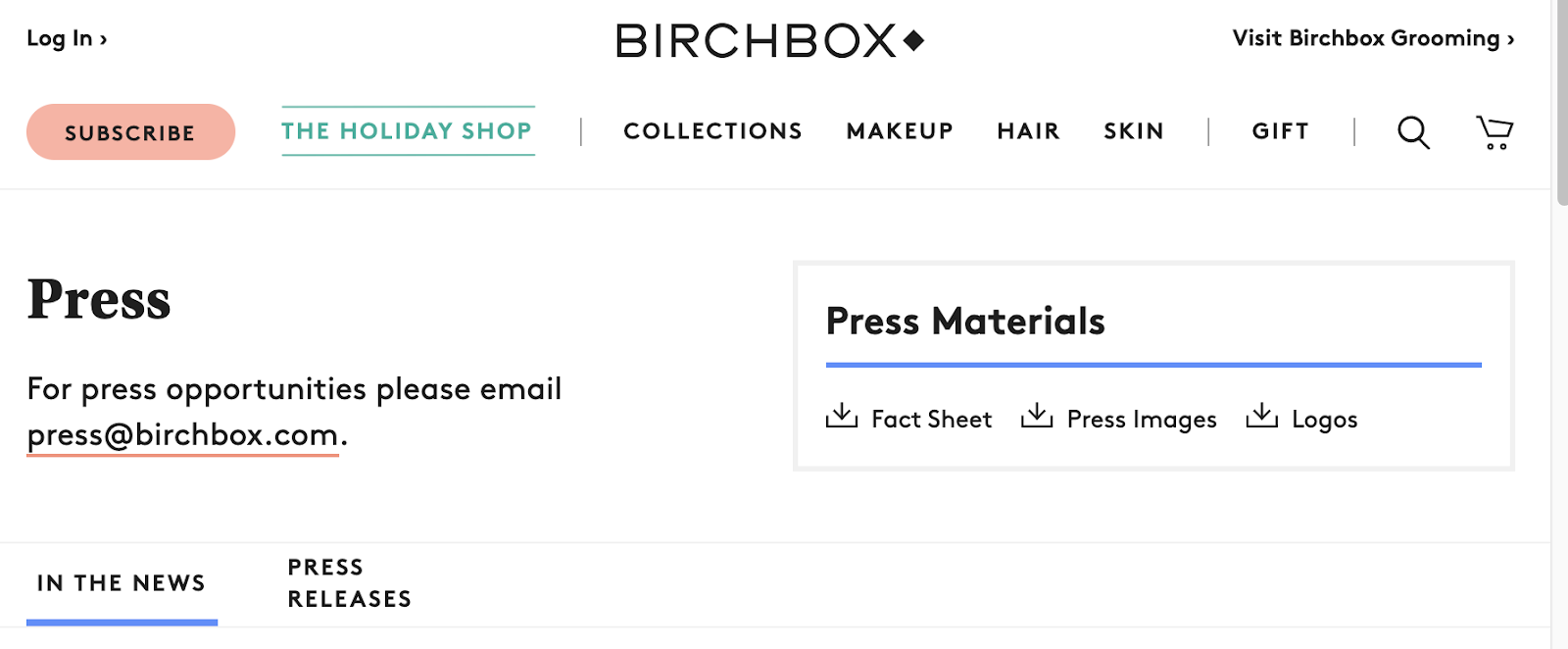 Without downloading or unzipping a large batch of images, visitors can quickly confirm that you have the visuals to make their post look good. Remember that the audience for your media kit is particularly busy and juggling many competing priorities. Jump to the top of their pile of "potential posts" making their job as easy and painless as possible.
(Added bonus: Your external media assets are easily updated – so you don't have to worry about outdated media kits and image files misrepresenting your brand.)
Perhaps unsurprisingly, Instagram also really crushes it in this part of their press resources. They even provide branded and editable templates for broadcast media use, making it easy for publishers to adhere to their iconic visual brand.
Now you know the what and the How? 'Or' What to create a media kit to obtain beneficial coverage for your brand. Click here to download our free media kit template and get started.
And go ahead, give yourself a pat on the back when this Features story comes out. You won't see your name on the signature, but we both know who real the hero is there.